BY Vince Cooper
As football suffers it's longest enforced shutdown since the 2nd World War and with no end in sight, let's look back to 1962-63 when it was the weather rather than the Coronavirus that caused the hold-up.
The freeze caused football to come to a virtual standstill for three months and saw teams play three games in a week and many times two in two days as they attempted to play catch-up and the season eventually finished in mid-May.
The campaign started like any other and as it came to the end of November Everton topped the 1st Division table two points clear of Spurs and Burnley with Leicester in fourth. At the foot of the standings Leyton Orient were bottom with Ipswich, so recently champions, just two points above them and Fulham third from bottom. Manchester United, despite the £115,000 capture of Denis Law from Torino in the summer, were fourth from bottom.
Newcastle manger Joe Harvey helps clear the St James' Park pitch
The weather started to turn just before Christmas. On 22 December 18 matches were postponed whilst another eight were abandoned mid-game. Then on Boxing Day seven top flight games were postponed whilst the match at a frosty Molineux between Wolves and West Brom made it to half-time with the home team two up before the referee decided conditions were too dangerous for the teams to continue. Arsenal travelled to the north west for a pair of matches against Manchester United and Everton but ended up kicking their heels for five days as both were postponed.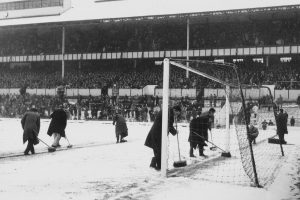 Snowbound!
In the three matches that did finish on Boxing Day a Bobby Charlton goal gave Manchester United a much-needed win at Fulham whilst at White Hart Lane, Spurs were 2-1 up and edging past Ipswich until Jimmy Greaves got a hat-trick in the last five minutes to make the win easier and put the North Londoners within a point of Everton at the top.
The only top-flight match completed outside London was at Leicester City's Filbert Street The pitch had been kept playable by groundsman Bill Taylor's judicious use of fertiliser and buckets filled with coke and they recorded a 5-1 win over bottom club Leyton Orient to move into third.
Elsewhere in the league Chelsea moved six points clear at the top of the 2nd Division whilst Peterborough remained three point clear at the top of the 3rd and Oldham confirmed their place at the head of the 4th with an 11-0 hammering of lowly Southport.
The abrupt cessation of football sent the pools companies into a frenzy. Littlewoods, Vernons and Zetters, losing a reported £3 million a week between them, hastily decided something had to be done to keep people filling in their coupons even when no play was possible. Thus, the Pools Panel was born.
The Pools Panel
Six people were chosen to sit on the first panel. Former top players Tom Finney, Ted Drake, Tommy Lawton and George Young were joined by former referee (and future It's A Knockout star) Arthur Ellis and, somewhat bizarrely, John Teodore Cuthbert Moore-Brabazon, the 1st Baron Brabazon of Tara, a former Conservative MP whose main claim to fame prior to being given a seat on the panel came in 1909 when he strapped a piglet in a wastepaper basket to the wing of a plane to prove that pigs could fly.
Top Secret!
It was decided that the group would go to work whenever 31 or more matches were postponed and they were called into action for the first time on 26 January 1963, meeting in the Grand Connaught Rooms in Central London in top secrecy with the results of their deliberations announced live on the BBC.
Armfield and Waiters on ice
Some places were obviously harder hit than others. Blackpool's Bloomfield Road, with ice between one and four inches thick covering it, saw stars Jimmy Armfield and Tony Waiters go ice skating. They were unable to host a match between 15 December and 2 March.
Meanwhile an FA Cup tie between Norwich City and Blackpool was postponed 11 times with City so desperate to get Carrow Road fit they even tried flamethrowers. As soon as the ice melted it froze again. The tie, originally scheduled for 5 January was played on 4 March, and drawn! The replay took place two days later at Bloomfield Road and the visitors won 3-1.
The third round of the competition was finally completed on 11 March when Middlesbrough beat Blackburn by which time a number of fourth round ties had already been completed with the fifth round due to get underway just five days later.
By the start of February Spurs had moved a point ahead of Everton at the top, having played two games more (25 to 23) with Burnley a further three points back but teams were starting to get a long way behind in matches played.
In February Spurs played once, Everton twice and the gap was now two points with Leicester, who managed four games in the month, joining the London team at the top, although behind on goal average and having played a game more.
The last Saturday in March saw Spurs draw at home with Burnley 1-1 leaving them on 47 points from 22 matches. Leicester were four points behind having played a game less whilst Everton after suffering a 2-1 defeat at Sheffield United, were six points behind the leaders with two games in hand.
Then it all changed. Harry Catterick's Everton played nine matches in April. Led by skipper Roy Vernon and 'The Golden Vision' Alex Young and with Alex Scott and Tony Kay, brought in during the freeze, playing major roles, The Toffees produced a title-winning run with five wins and four draws.
Undoubtedly the most important in the sequence came on 20 April when title-rivals Spurs visited Goodison Park.
Alex Young scores against Spurs
Alex Young headed over Bill Brown after 17 minutes gone for the only goal of the game but the home team totally dominated and could have won more easily.
Maurice Smith of 'The People' reported that Spurs wing-half John Smith 'left gaps through which a tank regiment could pour' and with Dave Mackay carrying an injury, the home team dominated midfield.
Everton v Spurs as seen by the Liverpool Echo
Everton hit the woodwork four times and Young could have had a hat trick as the home team overwhelmed their opponents.
A home draw with Arsenal (where goalkeeper Gordon West was outstanding) proved a minor hiccup for the Toffees.
A visit to London saw West Ham take an early lead thanks to a Mick Meagan own-goal but strikes from Derek Temple and Roy Vernon turned it around. Then over 52,000 were at Goodison to see a Vernon goal prove enough to beat Bolton. This left the Merseyside men with a visit to West Brom and a home game with Fulham and the title in their hands whilst Spurs still had three away matches to play and needed a slip-up from their opponents to have any chance.
At The Hawthorns a ninth minute injury to Ron Bradley left the home team with 10 men. A brace from Alex Young, a penalty from Roy Vernon (keeping up his 100% record for the season) and an own-goal from Graham Williams saw the visitors run out comfortable winners.
This made the final game at Goodison little more than a celebration and over 60,000 squeezed into the famous ground to see a hat-trick from Vernon and one from Scott give the home team a comfortable 4-1 win and give chairman John Moores, who had lost his hat which he threw it in the air when Everton's second goal went in;  'The greatest day of my life'.
Celebration time at Goodison Park
So, Everton were champions and the tannoy announcer, before giving out the results of the Spurs and Leicester matches at full-time preceded the announcement with; 'now, let's see who could be runners-up'.
There is little doubt that the mid-term captures of Scott (who was also wanted by Spurs boss Bill Nicholson) and Kay had a massive effect on the destination of the trophy and the title winners, funded by Littlewoods owner Moores were dubbed 'The Cheque Book Champions'.
It was Spurs who finished second, a distant six points adrift with Burnley in third while Leicester, no doubt distracted by their upcoming Wembley date with Manchester United, faded into fourth.
United, despite Law netting regularly, finished just three points clear of the drop, although they went on to beat Leicester in the FA Cup final. United's crosstown rivals Manchester City failed to beat the drop and were relegated alongside Leyton Orient their places being taken by Stoke City (with Stanley Matthews back in the fold) and Chelsea who pipped Sunderland on goal average for the second promotion spot.
Spurs gained compensation for their second place finish by becoming the first British team to win a European trophy when thrashing Atletico Madrid in the European Cup Winners Cup final.
Shhh!
The Pools Panel is still going strong although the days of sitting anxiously next to the radio (shhh!) to mark off your coupon hoping for a life-changing win seem long gone. Now we're sitting anxiously by our TV wondering when life will get back to something approaching normal.