In its early days the FA Cup was an almost exclusively southern affair, with the notable exception of the mighty Queen's Park team from Scotland. A list of the competitors from the first-ever season includes Barnes, Maidenhead, Upton Park, Crystal Palace and the wonderfully named Hampstead Heathens as well as finalists Wanderers and Royal Engineers.
Although Sheffield entered the competition in the third year for a single season and Shropshire Wanderers made it to the semi-final in 1874-75 it was still clubs from the London and the Home Counties that dominated, joined by the university teams from Oxford and Cambridge and the Old Boys sides of various public schools including Eton, Harrow and Charterhouse.
It wasn't until the 1870s were coming to an end that teams such as Manchester and Grantham started appearing and these were soon followed by clubs that we know of today – Nottingham Forest, Notts County, Blackburn Rovers and Aston Villa – starting to enter the competition.
In 1882-83 Blackburn Olympic took the trophy north for the first time and this opened up the floodgates as Blackburn Rovers (six times), Aston Villa (three times), West Bromwich Albion (twice), Preston North End, Wolverhampton Wanderers, Notts County, The Wednesday, Nottingham Forest, Sheffield United and Bury all took the trophy before Tottenham Hotspur finally recorded a victory for the South in 1901 (it would be another 20 years before the trophy came south again, again thanks to Spurs).
But the early years were dominated by teams now no longer in existence. One of the most famous of these at the time, and certainly one which produced some of the most interesting characters, was South-West London based Clapham Rovers who captured the trophy with a 1-0 win over Oxford University in 1880.
The club might well have been the first 'Rovers' in football having originally come into existence in 1869. The 'Rovers' term is attributed to teams who play their matches at more than one home ground and Clapham played matches at Clapham, Tooting and Wandsworth Common as well as at Balham, Battersea Park and Kennington Oval.
Rovers were originally a 'hybrid' team meaning that they played Association Football one week and Rugby the next, using the same group of players. Indeed Rovers were among the 32 initial members of the Rugby Football Union and they produced the man who scored England's first-ever try, and also played in two FA Cup finals as you'll read about.
At the time organised football was first taken seriously Rovers, in their shirts of cerise and French grey, were certainly one of the most prominent sides. Indeed the first-ever representative match between England and a London-based Scotland team, which was played on 5 March 1870 five years before the first official international, featured a Clapham Rovers player, 20-year-old Alexander Nash, at inside-forward.
Calling that 1870 match an International is certainly something of a misnomer as the Scotland team featured just one player actually born north of the border.
The match, played at Kennington Oval in front of a crowd reportedly somewhere between 500 and 600, finished 1-1 with England's goal scored by Alfred Baker who played for Wanderers and yet another brilliantly-named team, No Names FC.
The second unofficial match was played in November of the same year with England winning by the only goal, scored by Clapham left-winger Robert Walker and the same player notched the goal that earned England a draw in the third encounter played in February 1871.
When the two sides met again in November 1871 in the penultimate unofficial clash it was the prolific Walker who scored both goals in a 2-1 win and he was joined in the team this time by two other Clapham players, Thomas Baker and Jarvis Kenrick.
In the 1871-72 season Rovers competed in the first-ever FA Cup and Kenrick had the honour of scoring the first goal in the competition's history when he got the opener in a 3-0 1st Round win over Upton Park at the West Ham ground. However they failed to make further progress losing 1-0 to Wanderers on their own pitch at Clapham Common.
The goal Wanderers scored to eliminate Rovers was one of only two they scored in the whole competition, despite winning it. Drawn to play Harrow Chequers in the 1st round they went through when their opponents withdrew. After beating Clapham their next match was a goalless draw with Crystal Palace after which both teams were put through to the semi-final. There Wanderers fought out another goalless draw, this time with Queen's Park who then withdrew from the replay sending Wanderers to the final where they got the better of Royal Engineers by a solitary goal from Morton Betts who tapped in after a dribble from Walpole Vidal.
In the following year's FA Cup, Clapham came through the 1st Round after their opponents Hitchin withdrew but then travelled to play Oxford University where they lost 3-0 after the kick-off had been delayed due to the late arrival of some of the Rovers players.
In the 1873-74 competition Rovers got a walkover in the 1st Round again, this time it was the Amateur Athletic Club who withdrew. In the 2nd Round they were drawn to play Cambridge University and eventually qualified after a second replay, winning 4-1 at the Oval thanks to goals from Field (2), Kenrick and Holden after a pair of 1-1 draws, the first at Balham and the second at Cambridge
Next came a 3rd Round clash with Sheffield which, oddly took place at Peterborough. The unusual venue came about after the Sheffield secretary wrote to his Rovers counterpart asking to switch the tie to Yorkshire as his team had already been drawn to play in Shropshire (where they came through against Shropshire Wanderers in the only cup match that has ever been decided by a coin toss) and London in the previous two rounds. The Clapham secretary replied that if Northern clubs wished to play in the FA Cup they should be prepared to travel to London if the draw said so but he eventually relented and agreed that the teams should meet halfway.
Rovers won the much-delayed match 2-1 and went on to play Oxford University for the second year running, this time in the semi-final. The match, played at the Oval was decided by a single goal, scored by Walpole Vidal for Oxford who went on to win the trophy beating Royal Engineers in the final.
In the 1874-75 competition Rovers beat Panthers and Pilgrims in the first two rounds before again losing out to the eventual winners, this time falling 3-2 to Royal Engineers at the last eight stage after what was described as 'one of the quickest and most dashing games that could be imagined'. The 'Sappers' then went on to beat Old Etonians 2-0 in a replayed final.
Rovers continued to take part in the competition but failed to make it to the big day until the 1878-79 staging. That year they got a bye in the 1st Round when Finchley withdrew and then hammered Forest School 10-1. Next they edged past Cambridge University 1-0 before thrashing Swifts 8-1 in the quarter-final.
For some reason (bad maths?) there were three teams left in the competition at the semi-final stage so one – Rovers – was given a bye to the final. The other semi saw Old Etonians beat Nottingham Forest 2-1.
So, on 29 March 1879 Clapham made the short trip to Kennington to take on Old Etonians. Captain Robert Ogilvie led his men onto the pitch in front of 5,000 fans. An even game was decided when Old Etonians half-back Charles Clerke scored in the second half to deny Rovers the trophy.
So Rovers tried again in 1879-80, their ninth attempt. This time they started at Romford even though they had been drawn at home and they returned safely in the next round having issued a 7-0 thumping to their Essex-based rivals.
The 2nd round saw Rovers welcome South Norwood to Wandsworth Common and their South London neighbours were sent packing after a 4-1 win for the home team.
The 3rd round saw Clapham drawn at home against the Pilgrims of Tottenham and the match was played at Kennington Oval. It resulted in another comfortable for Rovers who scored seven times through Francis Sparkes (3), Felix Barry (2), Arthur Stanley and Clopton Lloyd-Jones without reply.
In the 4th Round Rovers played Hendon at Kennington Oval. 'The Referee' newspaper reported that; 'a closely disputed match' was played out between the pair. 'The Claphamites relentlessly charged their opponents with relentless vigour' says our correspondent, and two first-half goals from Clopton Lloyd-Jones decided the outcome.
A single-goal 5th round win over Old Etonians, gaining a measure of revenge for the previous year's final defeat, was achieved thanks to the prolific Lloyd-Jones again and then another semi-final bye saw Rovers reach their second successive final. The semi-final that was played saw Oxford University overcome heavily-favoured Nottingham Forest 2-1.
So on 10 April 1880 in front of a crowd of over 2,000 (and reported in some quarters as up to 6,000) who paid 1s (5p) to attend, Clapham, led by Robert Ogilvie and Oxford took to the field at the Oval.
The match was described by 'Lloyd's Weekly Newspaper' as being 'very fast and stubbornly contested throughout'. The 'Claphamites' with internationals sprinkled through the team were expected to win and, after hitting the woodwork three times in the first half duly delivered with Lloyd-Jones – who else? – scoring the only goal inside the final ten minutes after being 'favoured by fate and opportunity'. The scorer took over, at 21 years and 150 days, as the youngest man to find the net in the final.
The result was greeted by 'uproarious and prolonged vociferous cheering and throwing up of hats' and Rovers' win was described as 'well-deserved and exceedingly popular'.
Although Lloyd-Jones and his teammates were prolific in finding the net throughout that year's competition, scoring 22 times, it was the defence that proved Rovers' trump card. Led by skipper Ogilvie and England captain Norman Bailey they conceded just one goal in their six matches.
In the 1880-81 season Rovers made a fine start to their defence of the cup, winning their first round match 15-0 against Finchley. After a bye in the 2nd round they then beat Slough-based team Swifts 2-1 and Upton Park 5-4 before falling at the quarter-final stage to eventual winners Old Carthusians.
A 1st Round defeat came in the following year when Old Etonians ousted Rovers after a replay and it was Old Carthusians (the former Charterhouse school team) who again got the better of them, this time 5-3 at the quarter-final stage in 1882-83. The season was significant as the trophy went to the provinces for the first time with the victory of Blackburn Olympic over Old Etonians.
First round defeats to Swifts and Hendon followed in the next two seasons as Rovers started to fall from their position among the country's top clubs.
In 1885-86 Rovers came through two rounds but were then eliminated from the competition when they refused to travel to South Reading for a 3rd Round clash because of the weather and their opponents were awarded a walkover.
An indication of how far the club had fallen came in the following year when they suffered a 6-0 1st Round loss to Old Brightonians. By this time the top players the club has assembled had either moved on or hung up their boots to concentrate on their business affairs.
This proved to be the last time Rovers entered the FA Cup. The club carried on for some time, playing against Old Boys teams and in the London League, and they survived at this level until the 1st World War.
But it was in the 1870s, and in the FA Cup, that the Clapham star burned brightest, culminating in that win in 1880. The success came when football was still a game played for fun at the weekend by people who had other interests from Monday to Friday. Certainly Rovers produced a number of fascinating characters who played a big part in those early stages of the 'beautiful game' and here are a handful
Great Claphamites
James Prinsep
When Duncan Edwards was given his first international cap against Scotland in 1954 it was reported in some newspapers that, at the age of 18 years and 183 days he was England's youngest-ever call-up. Whilst that was true for those who have played for the national team in the 20th century there was a man who played 75 years before who was almost a year younger.
That man was James Prinsep who made his first, and only, start for his country in the match against Scotland at Kennington Oval in April 1879 aged 17 years and 252 days. That record would stand until 2003 when Wayne Rooney was picked for the match against Australia. A week before he was also the youngest player to play in an FA Cup final when a member of the Rovers team that lost to Old Etonians, a record he held until Curtis Weston played for Millwall in the 2004 final aged 17 years and 119 days.
James Frederick Macleod Prinsep was born on 27 July 1861 in Allyghur, Bengal, Where his father, James Hunter Prinsep, was working in the Indian Civil Service. His parents sent him back to England and he spent part of his early years with an aunt in Warwickshire.
Eventually moving with his family to London, Prinsep started his football life with Rovers and played for the team while attending the Royal Military College at Sandhurst.
After appearing on the losing side for Rovers in the 1879 cup final Prinsep switched clubs joining Old Carthusians and he  went on to win the competition in 1881 
Soon after the win Prinsep returned to India after being commissioned in the Essex regiment of the Army and fighting in the Mahdist War in North Africa. He received two medals, both for saving a man from drowning and in 1885 was seconded into the Egyptian Army
The Prinsep family's other claim to fame was that May, sister of James was married the poet laureate Alfred, Lord Tennyson.
In 1895 he was back in the UK on holiday and playing golf in Scotland when he contracted pneumonia and passed away at the age of just 34.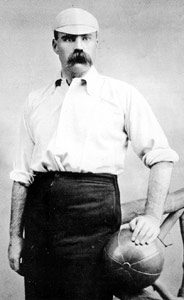 Norman Bailey

On 2 March 1876 a crowd reported to be between 12,000 and 20,000 were present at Hampden Park to see the seventh encounter between Scotland and England. This match was played at the original Hampden (named after an Englishman, John Hampden who died at the Battle of Chalgrove Field in the Civil War).
Scotland hammered their opponents 7-2, recording their third successive win in the annual showdown, with John McDougall of Vale of Leven netting a hat-trick and Queen's Park's Henry McNiel scoring twice on his home ground.
Clapham Rovers centre-half Norman Bailey made his debut in the match and despite that thrashing he retained his place in the team and was picked for 21 of the next 24 matches, although he missed three of those through injury.
Bailey, described as 'sturdily built and yet very supple in his joints' took over the captaincy of the team in 1881 and won a total of 19 caps, a record until it was surpassed by G.O. Smith in 1901, leading his country on 15 occasions, also a record at the time. 
He was also perhaps the first exponent of the long throw technique and it was stated that he could 'throw the ball in and reach the middle of the goalmouth with ease' leading to numerous goals including on one international occasion against Scotland when his throw was palmed into his own net by Scottish goalkeeper Parlane.
Norman Coles Bailey was born in Streatham in 1857 one of 11 children of Edward and Maria. Educated at Westminster School, he also played for Old Westminsters, Swift and Corinthians as well as Rovers and earned representative honours with London and Surrey along with those for his country.
A Solicitor, Bailey went on to serve on the FA Committee where he was one of the first to propose the legalisation of professionals in 1884 and was vice-president from 1887-90.
Bailey passed away in 1923 aged 65.
Jarvis Kenrick
The first-ever FA Cup goalscorer was a Clapham Rovers man and he would go on to have great success in the competition, though with another team.
Jarvis Kenrick was born in Chichester, Sussex in 1852. After attending Lancing College, Rovers were his first club and when the FA Cup started in 1871 he scored the opener in the 3-0 win over Upton Park on 11 November 1871, the first-ever goal in the competition..
Whilst still with Rovers Kenrick represented England in an unofficial international against Scotland but the real success at club level came after he signed for Wanderers.
Having already won the first two FA Cups Wanderers won the trophy three times in succession from 1876-78. Kenrick was in the side for all three victories and scored in the 2-1 win over Oxford University in 1877 and twice in the 1878 victory over the Royal Engineers.
Kenrick was also an accomplished cricketer once taking 10 wickets in an innings for his club Beddington CC and he later became president of the English Croquet Association. He passed away in 1949 at the age of 96.
Robert Ogilvie
Robert Ogilvie actually played against Clapham Rovers in that first FA Cup game but later joined the club and skippered them to victory in the 1880 final.
Robert Andrew Muter Macindoe Ogilvie was born in London's Bloomsbury in 1852 and attended Brentwood School. His father was the Inspector General at Customs and Excise. Robert would later become an underwriter at Lloyd's of London and he was chairman of the Institute of Lloyd's underwriters in 1910.
On the football pitch Ogilvie was capped once for England, playing in the 2-1 defeat to Scotland in 1874. He later refereed a match between the teams in 1877.
Ogilvie continued to live in central London but had a second home in Woking which is where he died in 1938 at the age of 85.
Francis Sparks
Another member of the cup-winning team, and another Rovers man who went on to captain England was Francis Sparks.
Born in Benfleet Essex, Sparks started his football life playing for St Albans Pilgrims. Something of a nomad in footballing terms he also played for Brondesbury, Upton Park and Hertfordshire Rangers before joining Rovers at the start of the cup-winning 1879-80 season. It was Sparkes whose run and cross led to the winning goal.
Sparks made his international debut in the 5-4 win over Scotland in 1879 and he made two more appearances, the first when scoring in a 5-4 defeat to the same team in 1880.
He then scored twice when skippering England to victory over Wales at Wrexham two days after the Scotland defeat (James Prinsep was also due to play but withdrew injured).
Later in life Sparks was involved in a scandal when accused – wrongly it appears – of bigamy. He went on to become a member of the FA Committee and passed away in 1934 aged 78.
Reginald Birkitt
Goalkeeper Reginald Halsey Birkett (highlighted above) was a dual international of the rarest kind.
Born in London in 1849, Birkitt's father was a fellow of the Royal College of Surgeons and he attended John Bentley's boarding school in Wiltshire before returning to London, living in Westminster with his family and working as a commercial clerk, later going on to become a 'hide and skin broker'.
Birkitt attended Lancing College where he began playing football, also playing for Lancing Old Boys before joining Rovers in 1866.
As Rovers were a hybrid club at the time Birkitt played both codes of the game and was equally adept at either. He was captain of the football team and was known for vocally encouraging his teammates during matches with shouts of 'play up Rovers', an uncommon act at the time and one often remarked upon by opponents.
In 1879 Birkitt was selected for the England team to meet Scotland at the Oval. He was one of five Rovers men in the line-up that day with Norman Bailey, James Prinsep, Henry Wace and Francis Sparks also in the side for a 5-4 win in an encounter of which The Times said; 'A better football match has probably never been witnessed'.
Goalkeeper for Rovers' cup win in 1880 he was clearly a top custodian but perhaps even more prominent in the game of Rugby.
An original member of the group that met at the Pall Mall restaurant in London to form the Rugby Football Union in January 1871 he became one of the 13 original committee members. 22 clubs were asked to attend and all did so except for the representative of Wasps who, it is said, went to the wrong venue but enjoyed it so much he decided to stay there.
Birkitt was selected for the first-ever rugby international between England and Scotland in Edinburgh later that year he scored his country's first-ever try although at that time tries didn't result in points, merely giving the team an opportunity to kick between the posts of 'take a try at goal'. England missed the kick and Scotland went on to win the match.
Birkitt made four appearances for the England rugby team to go along with his one for the football side and he was joined in playing oval ball internationals by his brother Louis while son John also later represented his country.
Reg didn't live long enough to see John play for England. His eventful life came to a tragic end in 1898 when suffering from diphtheria and delirious, he leapt from a bedroom window at his home in Wimbledon and died as a result of the injuries he sustained.
Clopton Lloyd-Jones
Clopton Lloyd Jones was an early hero for Rovers and got the winner in the FA Cup final among many other goalscoring feats
Lloyd-Jones was born in Hanwood, Shropshire in 1858, his father, Charles being known as 'The Squire of Hanwood'. He attended Trent College and played football for them against Nottingham Forest with the school's own magazine describing him as; 'a wonderful goalgetter'.
When he moved to London, Lloyd-Jones played for St Mary's Peckham, Southill Park and Pilgrims before joining Rovers in 1879. He also played for Corinthians in their opening season. 
He won representative honours during his time with Rovers, playing for London on a number of occasions and also for Surrey and Middlesex.
In 1884 Lloyd-Jones moved back to Shropshire thus ending his time with Rovers but continued playing football for local team Castle Blues with one local journalist urging his readers 'who want to see proper football, go and see him play'. Later that season he was chosen to play for Wales against England, qualifying through his parents place of birth but he was unavailable for the match.
Lloyd-Jones was also a good level cricketer and athlete and a keen angler and shot. 
After working as an 'indigo broker' while in London he became a commission agent when returning to Shropshire and passed away in 1918 aged 59.
Robert Frowd Walker
One of Rovers' early goalscoring heroes was Robert Walker who was also prominent in England's early unofficial matches against Scotland. He would go on to serve for many years in the Army and became a major figure in the history of Asia, and Malaya (Malaysia) in particular.
Robert Sandilands Frowd Walker was born in Chester in 1850 and was educated at Brentwood School in Essex and at the Royal Military College at Sandhurst where he captained the cricket team and where he was awarded the 'Sword of Honour'.
After leaving Sandhurst Walker started playing for Rovers and soon became a star. Chosen for three of the unofficial England v Scotland internationals he scored four times including both goals in the 2-1 win in November 1871 after which he was called; 'the hero of the English eleven'. He was also picked to play for his country against Scotland at rugby but was unable to fulfil the commitment.
Walker's footballing exploits came to an abrupt end in 1874 when, as a member of the 28th (North Gloucestershire) Regiment of Foot he was posted to Perak in Malaya.
After also serving in Singapore and Hong Kong, Walker returned to Perak where he became commissioner of the Armed Police. In 1896 he took the role as commandant of the Malay State Guides and he led them until retiring due to ill-health in 1910 and returning to England to live in Kent.
On his retirement a statue was erected in Taiping where it stands today outside the Perak Museum. The retirement was short-lived as he took over as the commandant of the internment camp for German and Austrian detainees at Alexandra Palace during the 1st World War.
Robert Walker passed away in 1917 after a short illness a few days after his 67th birthday. He certainly lived a full and interesting life in which, as was the case with many great Claphamites. football played a relatively short but significant role.