Corinthian FC had some of the greatest players, and greatest characters, pass through their ranks on either side of the turn of the 19th century.
Here are some of the best, and most memorable.
Charles Burgess Fry
Known to all as 'CB', Fry is undoubtedly one of the most gifted, and most colourful sportsmen England has produced. After excelling at sport at both Repton School and Wadham College, he moved on to Oxford where he captained the university at football and cricket whilst becoming president of the athletic club.
In 1892 during an inter-university sports event he set a world long-jump record which stood for 21 years. Two years later he scored on his England football debut and made an unbeaten century for Cambridge. Although he had a successful enough football career, including appearing in an FA Cup Final for Southampton, it was at cricket that Fry really excelled. He became captain of England and retired having made 94 first-class centuries.
After retiring as a player Fry tried on numerous occasions to gain election to the Houses of Parliament, wrote several books, published 'Fry's Magazine' and also ran a training ship for the Royal Navy.
He was invited to take the throne of Albania after the royal family defected to Germany, was asked for advice on setting up the Hitler youth by Adolf Hitler (he recommended cricket) and was part of the Indian Delegation at the League of Nations.
Fry's later life was indeed a mixed bag. He was said to have suffered a major breakdown and took to wearing unconventional clothes, also becoming paranoid. At the same time he was a fine journalist and more of less invented to profession of 'sports star as journalist'
CB Fry passed away in 1956 and the obituaries were full of praise, rightly focusing on his major contributions to sport rather than a somewhat chequered later life.
GIlbert Oswald Smith
At Oxford University Smith played in three wins over Cambridge and he won his first international cap in 1893, scoring twice in the 6-1 win over Ireland.
Known as 'the first great centre-forward' he joined Corinthian after leaving university and scored 132 goals in 137 games. Smith scored the winner in the 1900 Charity Shield against Aston Villa, played 20 times for England netting 11 times even though he was known more as a maker than a scorer of goals.
His reputation on the pitch was matched by the high regard he was held in off it. Steve Bloomer, the greatest professional goalscorer of the period, said of Smith: "He was the finest type of amateur, one who would always shake hands with us professionals in a manner which said plainly he was pleased to meet them."
Smith's reputation was such that, similar to cricket great W.G. Grace he was known to all simply by his initials.
In 1901 Smith scored for England in their 2-2 draw with Scotland and promptly retired from the game.
Andrew Watson
Although he only played for Corinthian for one season, Watson's place in football history is assured as the first black player to play at international level.
The son of a wealthy Scottish sugar planter and a British Guyanese woman, Watson attended Glasgow University and represented Glasgow and Queen's Park before moving to London.
He captained Scotland in the 6-1 over England in London in 1881 and also played the following year when the Scots won 5-1. He made one other appearance for his country, in the 5-1 over Wales in 1881.
In 1883 Watson was the first foreign player invited to join Corinthian and he played in the 8-1 win over FA cup holders Blackburn Rovers.
Tinsley Lindley
Tinsley Lindley was from Nottingham and made his debut for Nottingham Forest at just 16, scoring a hat-trick. Whilst studying law at Cambridge he played for the university and also for Corinthian.
Lindley made his England debut in 1886 and scored in the 6-1 win over Ireland. In total he played 13 times for his country and scored 14 goals.
He played for a number of clubs during his career as he moved around the country working in the legal profession and, despite many offers, refused to turn professional. He was described as 'the epitome of the Corinthian gentleman amateur.' He wore brogues when playing football, claiming that football boots marred his speed.
Lindley lectured in law at Nottingham University, served as a justice of the peace and was awarded the OBE for his work during World War One.
Robert Cunliffe Gosling
Once described by FA secretary Frederick Wall as 'The richest man who ever played football for England' Gosling succeeded his father as a 'country gentleman' and owned large amounts of land in Essex and Kent.
Gosling had five younger brothers who all excelled at both football and cricket. He gained five England caps including one as captain, scoring two goals and he never appeared on the losing side for his country.
He played for Corinthian 49 times between 1889 and 1899 and died in 1922 leaving a fortune of £700,000 – around £22,000,000 in today's money.
Arthur Tempest Blakiston Dunn
Such was the esteem Dunn was held in that following his death, aged just 42, in 1902 friends instigated the Arthur Dunn Cup which is still competed for to this day.
An FA Cup winner with Old Etonians in 1882, Dunn won four England caps and, although his Corinthian appearances were sporadic he was a key part of creating the club philosophy.
Charles Wreford-Brown
Charles Wreford-Brown started his football career as a goalkeeper but eventually moved to centre half. It was in this position that he captained England twice in the mid-1890s, on both of the occasions when the England team was made up entirely of Corinthian players. He also played county cricket for Gloucestershire.
He was present on most of the major Corinthian tours during the late 1890s and early 1900s, the time the team were the game's leading ambassadors. He played a total of 161 games for the club.
Leading professional of the period Steve Bloomer recounted an occasion when Wreford-Brown took the field with a pocket full of gold sovereigns and and gave one of the coins to a professional every time one scored.
There is a story that credits Wreford-Brown with coming up with the phrase soccer. The abbreviation came from the word 'association' and was based on rugby players shortening the name of their sport to 'rugger'.
After retiring from the playing side Wreford-Brown served as an administrator, founding the Amateur Football Alliance. He was appointed to the council of the Football Association in 1892, a position he held for 59 years, and was vice-president for the last 10 years as well as being chairman of England's national selection committee. He passed away in 1951, aged 85.
William Nevill Cobbold
Know as the 'Prince of Dribblers' or simply as 'Nuts', Cobbold played 46 times for Corinthian, scoring 40 goals. He also played 9 times for England with six goals for his country as well as playing cricket for Kent and representing Cambridge University at tennis.
Extremely fast and one of the early advocates of team rather than individual play, Cobbold later went on to become an Army tutor and football coach.
Alexander Graham Doggart
Doggart played for Corinthian for 15 years and retired as the all-time leading scorer with 207 goals in 203 games. He scored the winner in the famous FA Cup win over Blackburn Rovers in 1924 and, like fell Darlington native Creek, played for both the England amateur and professional teams.
Having been President of Corinthian Casuals after the war, Doggart became an FA councillor in 1951 and a national team selector from 1954. In 1961 he took over as Chairman of the FA and in this role he was responsible for the appointment of Sir Alf Ramsey as England manager.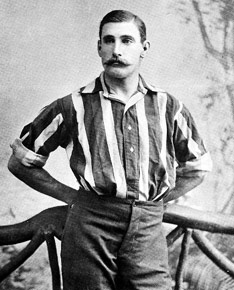 Arthur Melmoth Walters and Percy Melmoth Walters
Long before the Nevilles England had another interesting pair of full-back brothers, and both were Corinthians.
The Walters brothers, Arthur Melmoth and Percy Melmoth, were known as 'Morning' and 'Afternoon' thanks to their initials, and the pair lined up at right-back and left-back when England beat Ireland 4-0 at Whalley Range, Manchester in 1885.
'Afternoon' went on to play 13 times for his country whilst 'Morning' made 9 appearances before both retired from the game on the wishes of their parents when another brother – Hugh Melmoth – died after a football-related accident. The brothers later reappeared, playing for Old Carthusians.