Spotless Dick
Dick Pym was the Bolton Wanderers goalkeeper who had the enviable record of appearing in three FA Cup Finals at Wembley – and never conceding a goal.
Pym was born in Topsham in 1893 and, having initially followed the family trade as a fisherman, joined Exeter in 1911. He was part of the Grecians squad that toured Argentina and Brazil in 1914 the tour in which City famously played in Brazil's first-ever international. Sadly he broke two ribs in the Argentine leg of the tour and missed the momentous match.
During the 1st World War, Pym joined the Devonshire Regiment, serving a physical training instructor and when hostilities ceased he returned to Exeter.
In 1920 Bolton came in with a bid of £5,000 (a record amount for a goalkeeper at the time), and he moved to the North West. The fee enabled his former club to purchase their St James' Park ground outright.
Pym, nicknamed 'Pincher', kept a clean sheet in Wembley's first-ever FA Cup Final, the 2-0 win over West Ham in the famous 'White Horse' final. He was also between the sticks for two more Wembley wins, a 1-0 victory over Manchester City in 1926 and then the 2-0 success over Portsmouth in 1929 where he played despite having been out injured for over a month before.
Having played over 300 times for Bolton and made three appearances for England, Pym moved back to the West Country and spent a season with non-league Yeovil & Petters United before retiring and returning to the fishing industry.
He passed away at 95, as England's oldest-living international at the time, in 1988.
Pre-match smoke for Andy Wilson
Andy Wilson.
Played for Cambuslang Rangers, Middlesbrough, Dunfermline, Chelsea, Queen's Park Rangers and Sporting Club Nimes as well as guesting for Hearts and Leeds City during the 1st World War.
Was the first player ever to be sent off at Ayresome Park – and the second
His left hand was shattered by a bullet at Arras during the War so he wore a glove when playing.
Scored 13 goals in 12 games for Scotland.
Worked at Buckingham Palace after his playing career finished and gave the Royal Family advice on what to look for at the Cup Final
Was an international bowls player
Son Jimmy played for Watford
Llewelyn Kenrick
First win for the Welsh
Wales secured their first international win in their eighth match. The seven-game losing streak was snapped when they beat England 1-0 at Alexandra Meadows, Blackburn in 1881.
Wales played the game without their star player Jack Powell of The Druids who missed his train. Fortunately for the Welsh Llewelyn Kenrick, the man behind the founding of the Wales FA was in attendance.
Kenrick had retired from playing through injury and was there as a spectator.  Dressed in his own clothes ('Tweed trousers, ordinary boots and a smart Oxford shirt'), he rushed onto the pitch after play had started and took part in the match until re-injuring himself and having to leave the field.
The winning goal was scored by John Vaughan, another member of the famous Druids team.
Referee for that first win was England international player Segar Richard Bastard who also refereed the first FA Cup Final.
Pom Pom
Bob 'Pom Pom' Whiting was born in Canning Town and started his football career with Thames Ironworks (later West Ham United). Unable to crack the first team he moved on to Tunbridge Wells Rangers.
After establishing himself at his second club he earned a move to Chelsea in 1906, replacing 'Fatty' Foulke in goal. He spent three seasons at Stamford Bridge before moving again, this time to Brighton.
Whiting established himself as one of the country's best 'keepers while on the South coast, making 320 appearances for the club before the outbreak of the 1st World War. He earned the nickname 'Pom Pom' a name given to the heavy machine guns used by the British Army, thanks to his booming kicks which, it was said, could easily clear the opposing crossbar.
On the outbreak of war, Whiting joined the 17th Middlesex Regiment (the Pals Battalion). In 1917 he was missing, reported killed in action in Arras. His body was never recovered and he is among those remembered on the tomb of the unknown soldier at Westminster Abbey.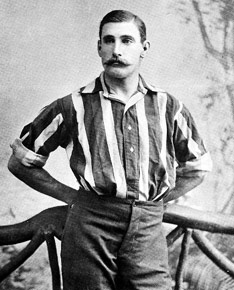 A.M and P.M Walters
Morning and Afternoon
The 1885 England v Ireland international at Whalley Range, Manchester saw the first occurrence of two brothers playing for their country.
Arthur Melmoth Walters and Percy Melmoth Walters, both of Corinthians played at right and left back as England ran out 4-0 winners.
Because of their first-name initials the brothers were known as 'Morning' and 'Afternoon'.
Both players retired on the wishes of their parents after younger brother Hugh Melmoth Walters died in a football-related accident in 1890 although both later returned to the game to play for Old Carthusians.
Percy finished with 13 England caps, Arthur with 9.
Spartak Moscow captain Igor Netto
A Devouring
'In our scarlet jerseys we were like little Red Riding Hoods. The Wolves devoured us"
Spartak Moscow captain Igor Netto after his team's 4-0 defeat at the hands of Wolverhampton Wanderers in 1954.