By Vince Cooper
CARDIFF City Football Club were founded in 1899 and were originally called Riverside A.F.C. Walter Bartley Wilson had put up a poster at the pavilion of the Riverside Cricket Club and, encouraged by the response, set about forming the football team and taking on the role of Secretary. The club changed their name in 1908 after Cardiff had gained City status three years before and joined the English league system two years later initially competing in the Southern League.
The club's early home was at Sophia Gardens, close to the city centre, which is home to Glamorgan CCC and is also a regular host of test match cricket. The Gardens played host to the club until 1910 but they had already played friendlies at Cardiff Arms Park and at the Harlequins Ground, Newport. Wilson, mindful of the lack of facilities for football at a ground which had no turnstiles and with the pitch not enclosed, and having turned down one invitation to join the Southern League due to the poor facilities contacted the owners, the Bute Estate to see if they had anywhere else in their land inventory where they could move to.
Lord Ninian Crichton-Stuart
It was councillor John Mander who suggested an area of wasteland on Sloper Road. The new ground had been known as Tanyard Lane and it was originally changed to Sloper Park before being changed again in honour of Lord Ninian Crichton-Stuart, son of the Marquis of Bute who was a driving force in getting the ground built and who was guarantor for the £90 annual rental of the new site for which they were initially given a seven-year-lease.
Ninian Park's first-ever match
Volunteers set to work readying the new ground and the first match took place on September 1st 1910, a friendly against First Division Champs Aston Villa. A crowd of 7,000 turned out with Lord Crichton-Stuart performing kick off duties for a match which saw Villa run out 2-1 winners. Jack Evans – signed from Cwmparc for 6/- signing-on fee scored the club's first goal at their new home and he would go on to make over 200 appearances for the Bluebirds.
The first competitive match was played just a few weeks later, and resulted in a 4-1 Southern League win over Ton Pentre in front of 8,000 fans. Within a year Ninian Park was hosting its first international match and 14,500 attended a 2-2 draw for Wales against Scotland. The pitch, however, was still showing signs of its previous use as a rubbish tip and players were paid extra to arrive early on matchdays to clear the pitch of any debris that might have surfaced.
Lord Crichton-Stuart led the 6th Battalion, Welsh Regiment in the 1st World War and would lose his life at the Battle of Loos in 1915.
Lord Chrichton-Stuart and other committee members enjoy a game against Swansea.
There was initially a single stand with ash banking on the other three sides but regular improvements saw stands on all four sides. First off was the construction, in 1910, of a timber stand at the Canton End which could hold 3,000 fans.
The original stand
Cardiff quickly made their mark in the Southern League winning the 2nd Division in their third season, 1912-13. They also recorded their first Welsh Cup success in 1912 beating Pontypridd in a replay at Aberdare after playing out a goalless draw at Ninian Park in front of 14,000 fans. The club remained in the 1st Division until Football was suspended at the outbreak of the War but stayed there for just one season after hostilities ended as they were then invited to join the Football League as it was expanded to include a third division.
City had appointed Fred Stewart as manager in 1911 and he would remain with the club for 22 years. Stewart had previously been boss at Stockport County and upon moving to Wales one of his first signings was Billy Hardy who had played for him at County. Due to the club's difficult financial position Stewart paid the £25 transfer fee out of his own pocket.
Billy Hardy – The first club great
The signing of Hardy probably ranks among the best bits of business in City's history. Having played in the club's opening football league match – against former club Stockport County, and in the first home fixture – a goalless draw with Clapton Orient in front of 25,000 fans – the Bedlingon-born defender would go on to make 585 first-team appearances for the club, was basically ever-present throughout the 1920s and made his last appearance in 1932 at the age of 41.
Having entered the league in the second flight, City made immediate progress finishing runners-up on goal average to Birmingham and earning promotion to the top level in their debut season, with crowds averaging over 28,000. The club had begun the decade with their second Welsh Cup win, overcoming Wrexham 2-0 at the Racecourse Ground. They would go on to win the competition four more times in the 1920s, a decade which was undoubtedly the most successful in the club's history.
The rise to the top flight saw attendances jump again and their first match, against Tottenham Hotspur, drew a crowd said to be over 55,000. Capacity had been set at 50,000 but the exit gates were eventually opened to let more fans in once that figure had been reached. After a rocky start to the campaign the club righted the ship and finished their top season in top-flight football in fourth place.
Fans pack a 'nearly-finished' Canton End stand against Chelsea in 1920
That season also saw The Bluebirds embark on a great Cup run. The club made it to the semi-finals thanks to a fine defence. They recorded single-goal wins over Sunderland, Brighton, Southampton and Chelsea to set up a last-four clash with Wolverhampton Wanderers. After recording a goalless draw at Anfield the sides met again four days later at Old Trafford where Wolves ran out 3-1 winners before going on to succumb to Tottenham Hotspur in the final at Stamford Bridge.
With Stewart in charge of playing matters and with Bartley Wilson working tirelessly off the pitch to ensure they thrived City soon established themselves as one of the better-run clubs in football. Wilson oversaw the construction of a new stand at the Canton end which opened during that 1920-21 season.
Wales v Scotland at Ninian Park 1924. Captains Fred Keenor and Jimmy Blair, both of Cardiff City.
On the pitch the skipper of the team at the time was Scotsman Jimmy Blair, but the leader in many respects was Fred Keenor, who would go on to replace Blair as captain later in the decade.
Keenor had joined the club after impressing in a trial match in 1912. When the First World War broke out Keenor joined the famed 'Footballers Battalion', the 17th Battalion Middlesex, led by Major Frank Buckley. Whilst serving Keenor fought at the Battle of the Somme where he suffered a severe shrapnel wound to his thigh. He returned to Britain and took a role as a fitness instructor until hostilities ceased in 1918.
Dispelling any doubts about a return to full fitness, Keenor was part of the team when Cardiff first played in the Football League and was also a regular Welsh international earning a total of 32 caps for his country.
In the 1923-24 season City came as close to taking the title as they, or indeed any team, has ever come without actually winning it. It all came down to the final day of the season with City starting it a single point ahead of Huddersfield. Their rivals ran out 3-0 winners over Nottingham Forest and Cardiff faced Birmingham needing a win to keep ahead. Try as they might they couldn't break down a stubborn rival defence, even missing a penalty, and this meant they finished level on points with the Yorkshire club.
They had scored one goal more than their rivals with 61 against 60. Unfortunately for the Welsh club they also conceded one more and this left them with a goal average of 1.794 against Town's 1.818 meaning they lost the crown by .024 of a goal.
In 1925 City went one better in their quest for FA Cup glory than in '21. Again it was defence that proved the key to Cardiff's progress in the tournament. They battled through two goalless draws with Darlington before seeing off their North-eastern rivals 2-0 at the third time of asking. This was followed by a single-goal win over Fulham, a 2–0 win at Notts County and a 2-1 home success over Leicester which saw them back in the semi. There they overcame Blackburn Rovers 3-1 at Meadow Lane to make it to Wembley.
The 1925 FA Cup final
By the time of the final Keenor was skipper and he led the team out at Wembley where many, including Welsh legend Billy Meredith, felt they were favourites. But it seems that the preparation was wrong. The team arrived at Wembley far too early according to reports and Hardy said they by kick-off time they were 'shaking like kittens'. City's lack of firepower again proved their undoing as they were overcome by a single goal from Sheffield United's Fred Tunstall which came about after a mistake by the normally reliable Harry Wake.
Despite the defeat the team returned to a heroes welcome with the St Saviours Brass Band giving a rousing rendition of 'Men Of Harlech'
One of the main reasons for City's outstanding defensive record, alongside having the likes of Blair, Wake and Keenor among their defenders, was Irish goalkeeper Tom Farquharson. Farquharson was born and raised in Dublin but his family packed him off to Wales after he started becoming embroiled in political issues. Upon his arrival in the principality he first took up Rugby Union but soon began a football career with Welsh League side Oakdale. He then moved on to Abertillery before joining Cardiff in 1922, making his debut on the final day of the 1921-22 season.
Farquharson was at Ninian Park for a total of 14 years, making almost 450 appearances. He also played seven times for Ireland and made four appearances for the Irish Free State.
Whilst City were a constant threat in all competitions it appeared that the lack of a true goal scorer was hampering their bid for honours. To remedy this Stewart moved into the transfer market early in the 1925-26 season snapping up prolific front man Hughie Ferguson from Motherwell. Ferguson has finished top scorer in the Scottish League on three occasions and racked up 284 goals in 288 games for The Well. Such was his popularity that the local steelworks closed so that workers could line the streets and pay him tribute after the sale.
Ferguson cost Cardiff £5,000, only £1,000 short of the transfer record of the time but it is unlikely that the club has ever made a better purchase. He hit the ground running with a debut goal in a 5-2 win over Leicester City.
The 1925-26 campaign was a poor one for a City, with 16th place in the league and a 4th round cup exit at the hands of Newcastle. But the following season was the greatest in their history.
The 1927 final line-ups.
Although they once again managed only a bottom-half position in the table, the FA Cup was a different story. In front of 31,000 at Ninian Park, Aston Villa were dispatched in the 3rd Round followed by a long trip to old foes Darlington which resulted in a 2-0 win. In the 5th round City travelled to Burnden Park and ousted holders Bolton Wanderers and in the quarter-final they ousted Chelsea, winning 3-2 at Ninian Park thanks to a late Ferguson penalty after a goalless draw in London with close to 120,000 watching the two matches (70,000 at Stamford Bridge for the first game and 47,000 attending the replay). Second division Reading were comfortably swept aside in the semi at Molineux, City scoring three times without reply, with Ferguson netting twice to bring his tally to five in six cup matches. The Welsh team were Wembley-bound for the second time in three seasons.
The 1927 FA Cup final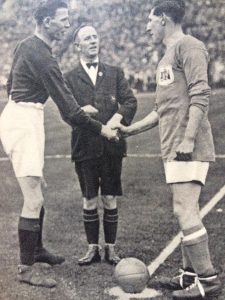 Charles Buchan and Fred Keenor
Prior to the final Cardiff stayed at a Southport hotel before moving to the Kings Head Hotel in Harrow on the Hill the night before the match. Fred Keenor led his men out at Wembley for the second time on 23 April 1927 – St George's Day – and they lined up against a rising Arsenal team managed by the legendary Herbert Chapman.
37-year-old Billly Hardy with his wife and daughter
The game was, by all accounts, a dour affair with the veteran Billy Hardy doing a fine job In nullifying the Gunner's chief threat, skipper and centre-forward Charles Buchan.
The goal
Deep into the second half and with neither side making inroads on the opposition, Ferguson tried a speculative spot from just inside the area. Arsenal goalkeeper Dan Lewis – a Welshman – seemed to have it covered but he spilled the ball over the line after catching it as Len Davies advanced on him. Lewis would later blame the shiny new 'keepers jersey he was wearing but, whatever the reason, that solitary goal was enough to take the F.A. Cup out of England for the first, and still only time.
Keenor and his men with the trophy
Somewhat surprisingly there were just three Welshmen in the Cardiff team on final day and it was one of those, Keenor, who went up to collect the trophy from the King.
Bringing the trophy to Wales
A crowd estimated at 150,000 lined the streets to see the cup brought to Cardiff and before the end of the season the team had added another Welsh Cup to their resume. Ferguson finished the season with 32 goals in all competitions, a club record that would stand until broken by Robert Earnshaw in 2003.
Fred Keenor puts his son in the cup – as you do.
The Cup success provided the funds for a roof to be built over the Grangemouth end of the ground and, with a capacity of 18,000, this was officially opened by the Lord Mayor of Cardiff on 1 September 1928.
Hughie Ferguson started the following season with the goals that beat Corinthians and won the club the Charity Shield but he had begun struggling with back injuries causing him to miss numerous games. During the 1929-30 season he was allowed to leave, returning to Scotland and signing for Dundee for £500. With 77 goals in 117 games, including some of the most important in the club's history, he had clearly proved value for the hefty transfer fee City had paid for him.
Hughie Ferguson with his wife
Ferguson's return to Scotland was an unhappy, and eventually tragic one. He played sparsely for his new club and soon sank into depression. On 8 January 1930 he gassed himself at Dens Park after a training session. He left behind a wife and two children. His family later claimed that the depression was caused by an undiagnosed brain tumour which led to inner-ear imbalance.
Rather than providing a springboard for even greater successes, that Cup win proved the culmination of City's time at the top and an ageing side quickly deteriorated. After a 6th place finish the following season they finished rock bottom in 1928-29 and were relegated for the first time in their history. Two years later they dropped again, to the Third Division (South) and it would be more than twenty years before top-flight football returned to Ninian Park.
Fred Stewart
By 1932-33 City had plummeted to 19th in the 3rd Division (South) and after 22 years at the helm Fred Stewart decided to retire. Bartley Wilson, founder of the club and long-time Secretary took over managerial duties. Wilson's solitary season at the helm proved even more disastrous. He handed over to Ben Watts-Jones in March 1934 but the club finished bottom of the table, conceding over 100 goals and were forced to apply for re-election.
That summer Watts-Jones had a clear-out, retaining just five players and bringing in 17 new faces. But ongoing financial problems made life difficult for the new boss. Things got even worse when, on 18 January 1937 a fire caused by explosives used by burglars destroyed the main stand. Later that year Watts-Jones 'moved upstairs' to a place on the board, being replaced by one of the men he had brought in, former Welsh international Billy Jennings. It seemed Jennings was on the verge of turning things around. With a new dual goalscoring threat in Jimmy Collins and Bert Turner results improved and then World War II brought those improvement to an abrupt end.
Tiger Khomich clears for Moscow Dynamo
Cyril Spiers took charge during the war years and was at the helm when the mighty Moscow Dynamo visited Ninian Park in a prestigious friendly match during their famous United Kingdom tour in November 1945.
City players present 'Joe Stalin's boys' with colliers lamps
The City players presented their opponents with ceramic colliers lamps before the match, and then Dynamo, termed 'Joe Stalin's boy in the press at the time, clearly weren't too grateful, presenting their Welsh hosts with a 10-1 thumping.
Ninian Park in the 1940s
Billy McCandless took over from Spiers soon after and was immediately successful as his team romped away with the 3rd Division (South) title finishing nine points clear of QPR. However McCandless would soon leave for bitter rivals Swansea and Spiers was restored to the managerial helm.
Spiers decided to try winger Wilf Grant at centre-forward and the move proved to be a master stroke. In his first season in the central role, the pacy Grant thrived, scoring 14 times.
The team re-established itself in the second flight, going to close to promotion on a number of occasions until, in 1951-52, fired by 26 goals from Grant, they finally made it back to Division One, finishing runners-up to Sheffield Wednesday and bettering Birmingham City for second spot on goal average, the rule that had cost them a 1st Division title all those years before.
A packed Ninian in 1952
So, top flight football returned to Ninian Park. But for how long?
That's it for part one of our Ninian Park story. In part two we'll cover the later years where the ground played host to the likes of Gerry Hitchens, Howard Winstone, John Toshack and The Pope!